Description
From political uncertainty to finance and recruitment demands, economics is integral to everyday decision-making. Go beyond the research papers and emphasise practice from theory with the University of Bath's Applied Economics (Banking and Financial Markets) online MSc, gaining insights you can put into action from day one.
Learn from industry-leading experts
The online master's in economics is run by the Department of Economics, recognised globally for their research in economic theory, econometrics and finance. The course is led by active, published researchers with years of experience in economics who will teach, support and inspire you throughout your studies.
Our Applied Economics online MSc is one of the top degrees for developing networks and attracting attention from a range of employers.
Ranked 3rd in the UK for Accounting and Finance by the Guardian University Guide 2021
Ranked 8th in the UK for Accounting and Finance by the Complete University Guide 2022
You will learn how to analyse, interpret, and critically evaluate economic data and research, as well as how to use micro and macro-economics to guide strategic decision-making. During the 100% online course you will learn how to apply these principles you have learnt to real world economics and policy issues, and even your own research projects.
Enhance your career prospects
At the University of Bath, your employability is the biggest focus. The course is bursting with contemporary ideas and unique case studies, providing you with all the theoretical knowledge, practical experience, and confidence for a long & successful career in banking and finance. The Guardian 2021 rated Bath's undergraduate economics courses in the top ten for career prospects after 15 months. If you want to enhance your prospects and become the economics expert at your company, this online course can make it happen.
'As a fixed income professional with a background in accounting and financial analysis, I realized that a better understanding of economics would complement my existing qualifications, further my career and enable me to better respond to future opportunities. The online environment has allowed me to meet and work with students from various backgrounds, in different fields of employment, from all over the world. Building these connections has been one of the best parts of the online experience so far.' – Ané Craig, Applied Economics online MSc student
Interactive online learning
You will learn via immersive video material and real-life case studies, as well as benefit from direct and regular communication with other students and lecturers. The online MSc Applied Economics (Banking and Financial Markets) is a passage to cutting-edge research and sought-after careers, for those with work and lifestyle commitments.
Economics for the real world with the University of Bath
Deciding on your future path doesn't have to be overwhelming, by following these simple steps you can make career- oriented decisions.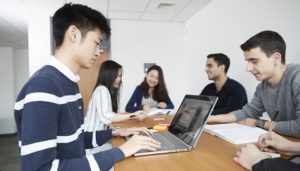 Study Details:
MSc 2 years and 6 months online
Fees
These vary depending on which course you would like to pursue. Please visit our website and register your details to speak to a recruitment coordinator to find out more.
Cost per 10 credits £722* (10% alumni discount). Fees are paid per unit. The MSc totals 180 credits.

* Valid up to and including September 2022 intake. Tuition fees are liable to increase each January. You should budget for an increase of up to a maximum of 5% each year.