Description
This online MSc in Artificial Intelligence is ideal if you are motivated by the challenges and infinite possibilities of advancing AI. It is designed to give professionals from computer science – as well as a host of other disciplines – the opportunity to specialise in AI and meet the increasing demand for experts in this exciting, future-focused and rapidly growing specialism.
At the forefront of human progress
In recent years, Artificial Intelligence is significantly more closely connected with human progress and societal change. It calls on new and powerful data algorithms to ensure that intelligent machines work in closer collaboration with us than ever before.
AI is evolving at a rapid pace. It has a broad application across a variety of business functions, including marketing and policymaking, finance and healthcare. This online MSc also addresses the ethical implications of advancing machine intelligence, and related issues around transparency and accountability. These are factors that have previously been overlooked by many in the rush to extend the possibilities of technology.
Ranked 10th in the UK by the Complete University Guide 2022
Top 10 for course satisfaction in computer science and information systems by The Guardian University Guide 2022
Forge a future in AI
In order to help you to take advantage of a wide range of future career opportunities, the online MSc in Artificial Intelligence contains a broad range of practical subjects, such as programming, data science and robotics. This enables a comprehensive understanding of AI and its application in the real world.
You can opt to take two specialist pathways: a general pathway focused on AI in context, with the other exploring technical aspects of AI in further depth. As a result, whether you're seeking to fill the digital skills gap or eager to learn about the latest breakthroughs in AI, this course will challenge your thinking and give you the tools to apply your knowledge into practice.
Answer AI's biggest challenges with the University of Bath
Deciding on your future path doesn't have to be overwhelming, by following these simple steps you can make career- oriented decisions.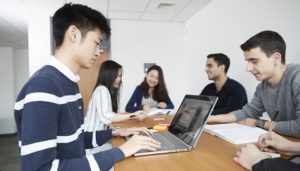 Study Details:
MSc 2 years, 3 months online
Intake dates: Jan/May/Sep
Fees
These vary depending on which course you would like to pursue. Please visit our website and register your details to speak to a recruitment coordinator to find out more.
Cost per 10 credits £722* (10% alumni discount). Fees are paid per unit. The MSc totals 180 credits.
* Valid up to and including September 2022 intake. Tuition fees are liable to increase each January. You should budget for an increase of up to a maximum of 5% each year.