Chinty Pettitt – MA Education graduate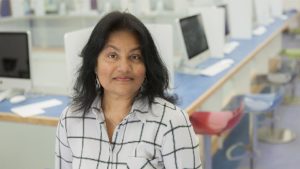 Chinty tells us how studying at the University of Plymouth allowed her to increase her skillset, to expand her networks, and to grow her confidence
Current employer: Truro and Penwith College
Current job title: Learning Support Tutor
Current location: Truro, Cornwall
"I have learnt how to carry out academic research with confidence, and have greatly improved my writing and communication skills… I enjoyed having discussions in the classroom and being with groups of like-minded people who were focused on teaching and learning and professional development."
How has your degree helped/influenced your career path?
I completed an MA in Education previously. Currently, I am studying for a Professional Doctorate in Education on the EdD course. My focus is on motivating learners, helping them to develop their mathematics skills. I was able to choose modules from the international masters programme related to this and, as a consequence, I feel that I have greatly improved my practice.
Has your career path changed since graduation?
I am currently in the same learning support role but feel very much that my long-term prospects for career development have been improved by the increased interaction I am now enjoying with the wider educational community, especially as a consequence of my research at the University of Plymouth. I am continuing my studies at doctorate level.
What is the most difficult thing which you have faced in your career?
I started teaching numeracy/mathematics in 2002 to learners studying vocational courses in further education. I found it very worrying when I realised that so many learners have negative emotions towards mathematics, often linked to difficulties with mathematical language and/or basic arithmetic. I worked very hard managing my time to study, teach at college, and balance my family life.
What is the best, most exciting or fun thing that you have done in your career?
Generally, when my learners show more motivation and feel that mathematics has become easier, I gain a great sense of reward. More specifically, my masters research project was very exciting: I successfully motivated and taught learners who had low or no qualifications in mathematics, and many of them passed their exams. A successful intervention from the project was a personal dictionary which has been more widely adopted at my college and schools.
What advice would you give to anyone wanting to get in to the same line of work?
It is important to focus on each learner, listening to them carefully. Many learners seem to have low confidence with mathematics and they often have difficulty expressing how they feel about it to individuals who they don't know. To increase their confidence, it is best to build on what your learners know already – revisiting and reinforcing skills, using different strategies as necessary – rather than jumping into teaching something completely new.
How did studying at Plymouth help you?
I have had excellent support from lecturers, tutors and support staff throughout my studies. I have been so inspired and empowered in course-related discussions, and I have started reading more widely and thinking more deeply about how to motivate learners experiencing difficulty with mathematics. In addition, my horizons and networks have been broadened, especially by interactions associated with my research project; for example, discussions with BBC researchers, with schools in the South West, and researchers from other universities.
What lessons/skills did you gain from your course?
I have learnt how to carry out academic research with confidence, and have greatly improved my writing and communication skills.
Did you undertake a placement during your degree and if so, how did this benefit you?
I already work in an educational environment where I had the opportunity to teach a large group of community studies learners for my masters research project. Their feedback and the results of my research helped me to improve my method of motivating learners to study mathematics.
What is your favourite memory of studying at Plymouth?
I studied three modules at Truro and Penwith College, which is a partner college of the University of Plymouth. I enjoyed having discussions in the classroom and being with groups of like-minded people who were focused on teaching and learning and professional development.
Do you stay in touch with other University of Plymouth alumni or lecturers?
I have kept in touch with Dr Julie Anderson, Dr Liz McKenzie, and Dr Nick Pratt, who all still give me advice and support from time to time. Once I completed my modules and started my dissertation, it was difficult to maintain contact with my peers.
Would you recommend undertaking a course with the University of Plymouth, and why?
Yes, I would recommend the University of Plymouth because the staff are very supportive and inspiring. The University of Plymouth has many partner institutions such as Truro and Penwith College which deliver a range of courses that are accessible to all.
Is there anything else which you would like to share with our current students?
I would advise students to plan as much time as possible for reading and researching because it can take a long time, especially with work and family commitments.
Find out more about postgraduate study at the University of Plymouth here