Funding award for Biosciences will make a difference to tomorrow's world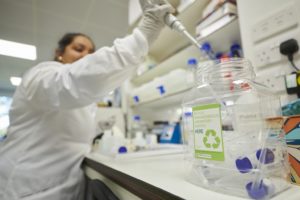 An investment of almost quarter of a million pounds in Biosciences facilities at Edge Hill will put the University at forefront of biology and biomedical research.
The University has been awarded more than £220k from the Office for Students to support the growth of STEM subject work, which will enhance the student experience and allow researchers to extend their portfolio of work to make a difference to tomorrow's world.
Work is currently underway at the Biosciences building on the Ormskirk campus to expand the facilities to support a growth in demand to study at the University and will enable further investment in sector-leading equipment.
The new facilities will also be used by JEOL as a specialist training centre, providing opportunities for students to work more closely with employers in the sector to enhance their job prospects for the future.