Morton Mao – MA Architecture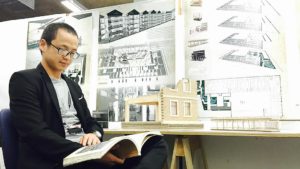 Architect at the China Agriculture University Town-country Planning and Design Research Institute – Morton Mao
Morton Mao came to Plymouth to study architecture and left with a new way in which to approach construction in his native China
Course: MA Architecture
Current location: Beijing
"Studying at Plymouth University did not just give me the opportunity to increase my professional knowledge in architecture, but it also gave me life experiences."
Tell us about your career path since graduation.
I went back to Beijing after I graduated in 2015. I was trying to find a good job, but found that China has spent the last thirty years building cities. I decided that it was time to focus on the Chinese countryside. So I chose my current employer, China Agriculture University Town-Country Planning and Design Research Institute, which is trying to build as part of the beautiful Chinese countryside. I hope I can do my best to design and plan country dwellings.
What is the best, most exciting or fun thing that you have done in your career?
I was always impressed by tradition Chinese dwellings. I have been able to increase my professional knowledge which is very helpful for my career life.
What, if anything, would you do differently if you could?
I hope that in the future Chinese cities will be designed along more traditional lines, and not like they are today. Most of the new cities look very similar.
How did studying at Plymouth help you?
Studying at Plymouth University did not just give me the opportunity to increase my professional knowledge in architecture, but it also gave me life experiences and taught me to be a happy person.
How has a degree from Plymouth University influenced your career?
Having a degree from Plymouth University has certainly given me a lot more confidence to make decisions in my life.
What is your favourite memory of studying at Plymouth? 
I'm glad that I had the opportunity to study with my lovely classmates who were from all over the world.
Find out more about postgraduate study at the University of Plymouth here