Oluwaseun Remi-Omosowon – MSc Network Systems Engineering graduate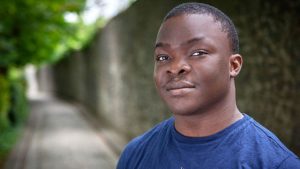 Oluwaseun tells us about working all over the world and how he still stays in contact with Plymouth University alumni
Current employer: ECS
Current job title: Security Consultant
Current location: Reading
"There were resources and workshops available to help students who were thinking of being entrepreneurs. I would recommend that current students should make full use of the resources and facilities available to them."
Tell us about your career path since graduation.
I continued my studies and completed a double master's programme at a partner institution, ESIEA, and then worked as a security researcher at the partner's research laboratory. I then moved back to my home country, Nigeria. I got a job as an IT security engineer with Riversafe Ltd, and I was back in the UK servicing global banks and enterprises.
I soon moved back home to Lagos and started a new position immediately with Kitskoo Cloud Services Ltd. as a security solution specialist. However, I've recently relocated back to Edinburgh to join ECS as a security consultant. As part of my job I've been on the move once again, relocating to Reading to be closer to a number of clients.
What advice would you give to anyone wanting to get in to the same line of work?
You need a broad knowledge of different technologies and security, so it is important that you have a good foundational knowledge and are aware of the industry.
How did studying at Plymouth help you?
I learnt a lot more about VOIP networks, multimedia encoding, multimedia communication networks, and intrusion detection systems. I also learnt about network simulation which I imagine will be used to optimise tomorrow's SDN network. Therefore Plymouth University gave me a broad understanding of many key areas which I have drawn upon after graduating.
Do you stay in touch with other Plymouth University alumni or lecturers?
Yes. I write to Dr Bogdan sometimes and look out for alumni events, of which there are many all across the globe. I recently attended the alumni weekend this summer back in Plymouth and caught up with old friends and made some new friends. It also represented a good opportunity to network with present business students. The alumni team are very good at keeping in contact with graduates and their events are always a highlight.
Would you recommend undertaking a course with Plymouth University, and why?
Yes, I would definitely recommend undertaking a course at Plymouth University as it grounded me in everything I needed to know to secure a job and progress within the sector.
Is there anything else which you would like to share with our current students?
Pay attention to all modules as there's always a lesson to be learnt – even from the modules that aren't technical. I remember a question in my first professional skills lecture with Professor Filmore, where he asked: "What is your most valuable asset? How high would you like to earn? And what gets you the position you want? Why don't you work as much on it as you do studying?" These are simple questions which people fail to ask themselves. There were resources and workshops available to help students who were thinking of being entrepreneurs. I would recommend that current students should make full use of the resources and facilities available to them.
Find out more about postgraduate study at the University of Plymouth here