Report on the police use of facial recognition technology identifies significant concerns
Joint winners Professor Peter Fussey and Dr Daragh Murray: Celebrating Excellence in Research and Impact Awards 2020 – Outstanding Interdisciplinary Research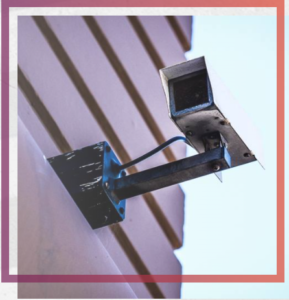 Two Essex academics have used a range of techniques and expertise to conduct a detailed, interdisciplinary analysis of the Metropolitan Police Service's trials of live facial recognition technology (LFR).
Unprecedented access was given by the Met to Professor Peter Fussey and Dr Daragh Murray, which allowed them to conduct a thorough examination of how the technology works in practice, how it guides police activity and how it shapes officers' decision-making and interactions with the public.
The final report was vital and timely – as concerns about this technology and its effect on privacy, security and behaviour go to the heart of our democracy.
The challenge
The emergence and potential use of powerful, artificial intelligence-based forms such as live facial recognition technology has prompted much debate around the world.
There has been widespread public concern about the levels of insight such technology gives the authorities into a citizen's day to day life – whilst the flip side of the debate centres around concerns about global security and safety.
Prior to this report, there was an absence of robust, independent analysis into the use of these new forms of surveillance and therefore a lack of accurate information on which to base future debate and leadership.
What we did
Essex sociologist and leading criminologist, Professor Peter Fussey, was granted unique access to the Met's live facial recognition team for the final six of their ten live trials. He attended internal planning meetings, briefing and de-briefing sessions, got the opportunity to discuss the approach with officers on the ground and gained access to the camera control area.
Alongside that, Dr Daragh Murray, a specialist in human rights law based at the School of Law at Essex, undertook legal analysis. He reviewed the Met's legal justification for the trials and assessed its basis in relation to the law of England and Wales, human rights law and normative standards of UK policing.
The researchers also drew on expertise from across the inter-disciplinary Human Rights, Big Data and Technology Project, based at our Human Rights Centre. This project and research is funded by the Economic and Social Research Council (ESRC).
Their 128 page report – the first and, to-date, only independent report into UK police use of LFR – was published in July 2019. Its findings, revealed in a joint exclusive between The Guardian and Sky News, included both a human rights analysis and an assessment of the practice and procedures used. It also looked at how the technology performed.
What we found
The report documented significant operational shortcomings in the trials which could affect the viability of any future use of LFR technology.  The researchers also found it 'highly possible' that police deployment of LFR technology would be held unlawful if challenged in court.
The report noted a flawed approach to planning and methodology, a failure by the Met to engage with the concept of 'necessity' and a failure to establish consent. Numerous operational failures including inconsistencies in the process used to verify matches and a presumption to intervene were also found. Alerts issued by the technology were verifiably accurate in less than 20% of cases, suggesting significant unnecessary stops, with social and legal consequences.
In light of their findings, Professor Fussey and Dr Murray called for all live trials of LFR to be ceased until these issues were addressed; noting that it was essential that human rights compliance is ensured before deployment, and that there be an appropriate level of public scrutiny, debate and leadership on a national level before proceeding.
What we changed
The report's publication resulted in over 200 news stories across three continents and moved the global debate on from a previous narrow focus on privacy. The research has shaped police processes, been referenced in parliament and informed surveillance oversight at both UK and EU levels.
The human rights analysis is a central component of the Surveillance Camera Commissioner's submission to the Court of Appeal on the legality of facial recognition. This research remains a reference point in the ongoing discussion and debate, and Professor Fussey and Dr Murray have become 'go-to' experts in this field.