Research shows microplastics abundance along the Ganges River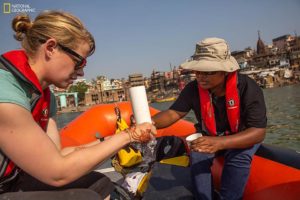 The Ganges River and combined flows could be responsible for up to 3 billion microplastic particles entering the Bay of Bengal every day, according to new research by Research Fellow Dr Imogen Napper and Professor Richard Thompson from the University's International Marine Litter Research Unit.
The study (doi: 10.1016/j.envpol.2020.116348) represents the first investigation of microplastic abundance, characteristics and seasonal variation along the river.  It was conducted using samples collected by Imogen, a National Geographic Explorer, and fellow scientists as part of the National Geographic Society's Sea to Source: Ganges expedition.