Researchers at Edge Hill University to investigate how AI could aid early detection of pancreatic cancer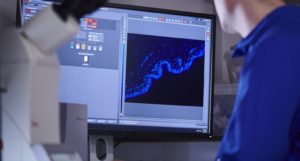 A new study led by researchers at Edge Hill University is to investigate how artificial intelligence (AI) could be used to improve early diagnosis of pancreatic cancer.
Researchers have been awarded a £100,000 start-up grant from Cancer Research UK, Pancreatic Cancer UK and the Engineering and Physical Sciences Research Council (EPSRC), part of UK Research and Innovation (UKRI), to explore whether AI holds the potential to detect early signs of the disease before symptoms start to appear, at which point the cancer is usually too advanced for treatment.
By using data from patients who have been diagnosed with the disease, researchers will use AI to identify potential biomarkers and risk groups who are more likely to develop pancreatic cancer in the future.
According to Cancer Research UK, there are around 10,300 new pancreatic cancer cases in the UK every year, with around eight in 10 cases being diagnosed at a late stage in England and Scotland.