The Vaccine Confidence Project™ awarded MacArthur funds supporting an equitable recovery from the pandemic
New grant will support the co-design of trust-building efforts for COVID-19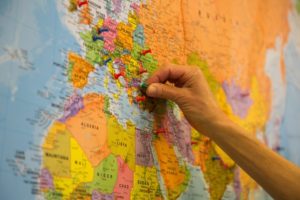 The Vaccine Confidence ProjectTM (VCP) at the London School of Hygiene & Tropical Medicine (LSHTM) has been awarded a significant grant from the John D. and Catherine T. MacArthur Foundation for its work to identify levers of trust, and to understand the crucial role confidence and cooperation plays in the recovery from COVID-19 pandemic. The grant will provide catalytic funding for the project in Abuja, Nigeria; and Delhi, India.
The VCP has spent the last ten years listening to understand the drivers of vaccine confidence. Through the Vaccine Confidence Index™, a tool for mapping confidence, the VCP has helped to inform the strategies and designs for immunization programs so human and financial resources can be designed for and with the communities they serve.
From this decade of work the VCP has learned that a vast majority of the challenges around vaccine confidence have little to do with the vaccines themselves. Rather, the vaccine confidence challenge is a window into the broader issues of our polarized, mistrustful society. Polarization of sentiments and beliefs make it increasingly difficult to have a true conversation with those we may disagree with.
In order to address this growing divide, the Vaccine Confidence Project is launching The Confidence Project, to find practical and actionable solutions to build mutual trust and narrow the caverns that divide us, by opening minds and building alliances. Beginning right away, this new grant will help The Confidence Project tackle the issue of confidence in India and Nigeria, crucial to post-COVID-19 recovery.
Professor Heidi Larson, Founding Director of The Vaccine Confidence Project, said: "As the channels for discourse continue to evolve, somehow it manages to deteriorate at the same time. In the Age of Digital Information, it seems the more we have at our fingertips, the further we are pushed apart. The Confidence Project is dedicated to closing those caverns by finding common ground. The MacArthur Foundation grant will allow us to start acting on what we have learned around building mutual trust– so we can emerge from this crisis prepared for a new future."
The grant is part of around $80 million in awards MacArthur announced in support of the foundation's Equitable Recovery initiative, centered on advancing racial and ethnic justice. The initiative is funded by MacArthur's social bonds, issued in response to the crises of the pandemic and racial inequity.
"As we emerge from this moment of crisis, we have an opportunity to improve the critical systems that people and places need to thrive. Our systems and structures must be rebuilt," said MacArthur President John Palfrey. "We are committed to ensuring that our response to the pandemic is focused on supporting the reimagining of systems that create a more just, equitable, and resilient world."
The Vaccine Confidence ProjectTM was founded in 2010 to monitor and build public confidence in immunization programs by making them relevant to people's lives. It is based at The London School of Hygiene & Tropical Medicine, renowned for its world-leading research, postgraduate studies, and continuing education in public and global health.
It is the only research group fully dedicated to researching the roots, trends and impacts of vaccine confidence at a global scale. The VCP developed and launched Confidence Index™ (VCI) in 2015 in 67 countries, establishing a baseline against which these countries have measured changes in confidence to inform their programs and policies. In 2020, the VCP published a global study comparing VCI data collected since 2015 across 149 countries. These analyses identified critical trends in confidence, exposing underlying societal issues.
The Vaccine Confidence Project is one of 35 organizations receiving grants advancing the Public Health Equity and COVID-19 Mitigation and Recovery focus area of the Foundation's initiative. The work in this focus area supports improving access to resources for immediate health challenges while advancing new policies, models, and structures to support a more equitable and resilient public health sector in the future.
MacArthur is supporting in three other areas:
Racial Justice Field Support, with a focus on combatting anti-Blackness, supports building Black power by supporting Black-led and -focused philanthropic organizations. MacArthur also will take a leadership role in positioning reparations and racial healing as issues that philanthropy helps to meaningfully address.
Self-determination of Indigenous Peoples supports uplifting Indigenous communities to enable autonomous pursuit of a recovery guided by their priorities, cultures, and practices.
An Equitable Housing Demonstration Project supports restoring communities and reducing incarceration and housing instability by generating an array of housing solutions that can help to permanently end the use of jails and prisons as housing of last resort.
MacArthur identified the areas through a participatory process with a diverse group of external advisors, who informed its strategic approach. The participatory process aimed to center the voices of communities that are affected by the Foundation's decisions and have a stake in the grantmaking outcomes.
This is the first time The Vaccine Confidence ProjectTM has received a grant from MacArthur. Almost two-thirds of the awards represent new grantee relationships, and most of the organizations are Black, Indigenous, and People of Color-led or -serving. The grants also reflect MacArthur's global reach: 45 percent of the new funding supports work outside of the U.S., including 12 percent in India, and 14 percent in Nigeria, where MacArthur has offices.
Equitable Recovery Initiative
In the fall of 2020, MacArthur established a $125 million Equitable Recovery Initiative. The Foundation deployed $40 million of bond proceeds through 24 grants. Initial grants focused on strengthening voter mobilization and election protection, addressing anti-Black racism, and supporting Native Americans impacted by COVID-19. Grants also supported Black, Latinx, Asian, and Indigenous arts organizations in Chicago, technology and justice, and a fund for social entrepreneurs advancing racial equity.