What is it like to study in the Virtual Learning Environment?
Even before the pandemic, online learning was growing in popularity and many students now prefer studying online to being in a classroom – a recent survey showed 41% of graduates felt their online learning provided a better learning experience than their classroom-based education. It gives students a flexible learning experience for those looking to accelerate their career.
Due to advances in technology, distance learners now benefit from a high-quality multi-media experience that is just as enriching and interactive as their on-campus equivalent. Today's distance learning programmes take place in sophisticated virtual learning environments delivering programmes that have been specially designed for an online audience.
What is the Virtual Learning Environment?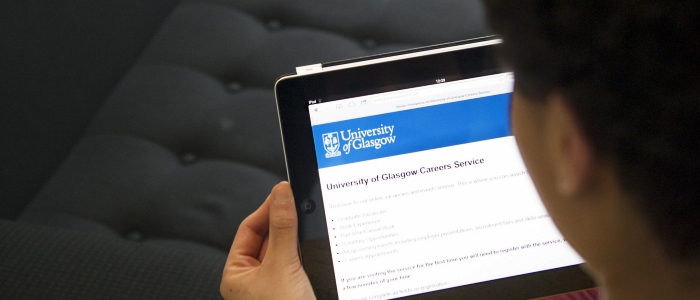 A virtual learning environment (VLE) is an online portal where students can access everything they need for their course. At the University of Glasgow, the virtual learning environment can be accessed from anywhere at any time, whether that's via tablet, mobile or desktop devices.
The University of Glasgow's online programmes have been designed so that interaction and collaboration are at the forefront of the learning experience. This is accomplished through their customised learning environment and the tools which have been incorporated to facilitate dynamic learning and maximum engagement.
Students can join lectures and seminars, as well as access many resources by logging into the VLE, here they will be able to find articles, e-books, video, and web resources, many of which have been adapted into formats to suit the individual learning style of the students. The virtual learning environment is also a social platform, designed to help students and tutors work together.
"A variety of educational approaches such as enhancing community building and collaborative learning will play an important role in our delivery and you will be encouraged to interact within your courses, with your classmates and tutors in ways such as live sessions or forums in a virtual learning environment," says Neeraj Bhardwaj – Digital Education Manager at the University of Glasgow.
Gaining an advanced qualification online rather than on campus has many additional benefits for students.
"Glasgow University is renowned for providing an excellent student experience in a supportive, engaging, and friendly student environment. Glasgow's virtual learning environment allows you to benefit from an outstanding educational experience and attain a high-quality degree from a world – renowned institution without having to relocate", says Bhardwaj.
The degree you are awarded is subject to the same academic scrutiny as an on-campus course, but the flexible nature of digital learning means you can study at your own pace and time and fit it around your existing work and personal commitments.
Another benefit of online study is the opportunity to gain an international network of likeminded peers. Online programmes attract students from all over the world, bringing with them a wealth of experience and different perspectives to share. The University of Glasgow welcomes students from over 140 countries worldwide and is a founding member of Universitas 21 (U21) – a global network of 27 leading research – led universities who collaborate on a range of research projects.
Whether you are looking to change your career, or continue your studies after your degree, an online postgraduate degree from the University of Glasgow can help you achieve your goals. Offering a range of programmes that can give you the knowledge and skills you need to succeed.