Why perspective is the key to success for Chinemelu Ezeh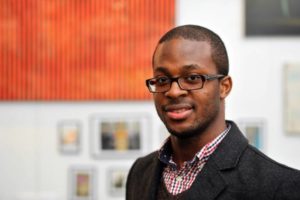 Dr Chinemelu Ezeh (PhD Assistive Robotics 2018) always wanted his future to be in robotics. He says: "It all started when I was nine years old. I saw a kids' computer on the news in Nigeria and immediately wanted it. After two years of asking my dad for it, I got my first computer."
Having spent all his free time teaching himself the basics, including how to write programs, Chinemelu went on to compete in global competitions while in a robotics society at secondary school. Building robots became the focal point throughout his education in both Nigeria and London, with Chinemelu ultimately joining UCL in 2014 to study for a PhD in Assistive Robotics.
From school to UCL
Assistive robots support their human users to live independent, healthy lives. Chinemelu's passion for this subject came from "realising the power of technology to overcome real world problems" and a desire to contribute towards "creating an inclusive world where society works for everyone".
It was while at UCL, based at Aspire CREATe – Centre for Rehabilitation Engineering and Assistive Technology, that Chinemelu developed a smart wheelchair, an achievement he considers to be the highlight of his career so far. Smart wheelchairs are electrical wheelchairs that are equipped with mobile robotic technology to assist the user in a number of situations. Chinemelu's smart wheelchair was subsequently used as a prototype for the ADAPT project: a large European collaboration that aims to develop innovative solutions to improve the home care, wellbeing and independence of disabled people.
Since graduating, Chinemelu has gone on to lead a growing team as a Senior Robotics Engineer at Oxbotica: one of the world's leading autonomous driving software companies. He says: "UCL was critical to getting me to where I am today. I needed those four years of deeply exploring robotics on a fundamentally practical level to become an expert in my field. It is very rare you find people in my profession who have had the amount of practical experience that UCL enabled me to acquire."
Chinemelu's supervisors at UCL were Professor Tom Carlson and Professor Catherine Holloway ."UCL invested in me," he adds. "For example, every year I had the privilege of 10 days of practical robotics testing in the laboratory, which is a huge amount. I am really grateful to UCL – the support I received allowed me to do the things I wanted to do."
Chinemelu's legacy to UCL was founding the Robotics Society during his time as a PhD student. He says that the society, which has since gone from strength to strength, "taught me how to be a leader and inspire people." As President of the society, he developed and taught beginner robotics workshops to more than 70 students and designed a robotics course for students in schools as part of an outreach programme.
Proud to Be(lieve)
Chinemelu cites his self-belief as the key that unlocked the door to success. Talking during Black History Month in October, he discusses what 2021's theme – 'Proud to Be' – means to him. "I'm intrinsically proud that I am capable of doing the things I can do, not because I am special but solely because I believe in myself for no reason. There is no precursor to believing in oneself, there is no green light; you have no choice but to do so."
And to those who may lack the confidence to pursue their dreams? "Believe in yourself and assert with no apology that success looks exactly like you. Look for approval within yourself, and only yourself."