Zoe Sadler – PgDip Publishing graduate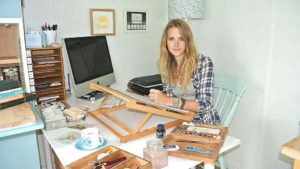 Zoe is now a freelance illustrator, specialising in children's book illustration and has her own publishing company, Inkyeverafter Press
Year of graduation: 2006
Current employer: Self-employed/freelance
Current job title: Children's book illustrator/author
Current location: Isle of Wight
"Be prepared to work and hard and never give up. I have had a lot of knocks along the way but at the same time some great highs. Publishing is a difficult route to get into and you have to be persistent and push the boundaries to stand out from the crowd."
Tell us what you have been doing since completing your studies.
After completing my publishing course and a short work experience placement at Meadowside Children's books in London I worked for another London publisher for two years as an in house children's book illustrator and designer. I was then made redundant from that position and I have been freelancing and building up my illustration business ever since. I am now working solely on children's book illustration and I have also now set up my own publishing company, Inkyeverafter Press to publish my own books. I work with my business partner who is in charge of Marketing and PR and together we offer advice and services to help others self-publish their work to the highest of standards.
Has your career path changed since graduation?
No, I have always worked as an illustrator but I have worked on a range of projects – anything from books, magazines, graphics-based projects to private commissions.
What is the most difficult thing which you have faced in your career?
The competitive nature of traditional publishing particularly in the field of children's books. It is a very saturated market and there are a lot of illustrators and authors trying to get noticed and make a name for themselves within the industry.
What is the best, most exciting or fun thing that you have done in your career?
Definitely successfully crowdfunding and then publishing my children's book 'The Lighthouse Keeper: A Cautionary Tale'. Crowdfunding with Kickstarter helped me reach a wider audience with my work and give me the means to be a bit more ambitious with my children's book project. It was a huge achievement for me to create the whole book from start to finish.
What, if anything, would you do differently if you could?
I wouldn't wait so long to publish my next book. It has been three years since I first published the Lighthouse Keeper and after initially publishing the book I wasn't sure what my next step should be. So I have now relaunched The Lighthouse Keeper and I am working on my next book which I will publish in October. In hindsight however, I think the publishing industry has changed so much even in the last three years so perhaps now has been the right time for a relaunch.
What advice would you give to anyone wanting to get into the same line of work?
Be prepared to work and hard and never give up. I have had a lot of knocks along the way but at the same time some great highs. Publishing is a difficult route to get into and you have to be persistent and push the boundaries to stand out from the crowd. Also make sure you keep up to date with advances in your field it can help you decide on your next steps.
How did studying at Plymouth help you?
It helped me more than I could ever have imagined. To have the insider knowledge that my publishing course gave me has been invaluable. I could never have published my children's book without it and I would never have had the courage to set up my own publishing company.
What is your favourite memory of studying at Plymouth?
Haha! A trip to a book printers and packagers in Cornwall. It was a fascinating trip to get a behind the scenes look and how it all worked. However, it snowed on the way home and we got stuck in the snow. The international students' faces were a picture as a couple of my classmates had never seen snow before. I am originally from Scotland so along with a Canadian classmate we found it hilarious that traffic just stopped for an inch or so of snow. Fortunately, we all made it back safely even if it took a good few hours longer than expected.
Do you stay in touch with other University of Plymouth alumni or lecturers?
Yes, I do. In fact, it was my publishing lecturer who put me forward for this interview.
Would you recommend undertaking a course with the University of Plymouth, and why?
Definitely! I came to Plymouth with a BA in Illustration but it was my Postgraduate Diploma in Publishing that really helped me on my way and realise what my chosen career path was supposed to be.
Is there anything else which you would like to share with our current students?
Make the most of the contacts you make at University particularly if they can help you further down your career path. Potential future business contacts can be invaluable.
Find out more about postgraduate study at the University of Plymouth here