Masters study opportunities at University of Bath
Masters and Taught Courses in South West England
About University of Bath
At Bath, we are known for excellence in teaching and research, our welcoming community, and for providing students with outstanding preparation for the workplace. We are a top ten UK university in the Guardian University Guide 2022, the Complete University Guide 2022, and The Times and The Sunday Times Good University Guide 2022. We're also ranked 6th for graduate prospects in the Complete University Guide 2022 and 7th in The Times and The Sunday Times Good University Guide 2022.
Our academic programmes are designed to provide both rigorous intellectual challenge and real-world relevance, giving our students the opportunity to study with researchers who are leaders in their field.
87% of our research is world leading or international excellent (according to REF 2014) so your studies will be informed by some of the most exciting and innovative ideas across all fields.
Our vibrant campus, and location right on the edge of the city of Bath, offer sporting, social and cultural opportunities. We are one of the safest campus sites in the UK – we were one of the first universities in the country to win a national police-approved security award.
Join our friendly, high-achieving community to gain the knowledge, skills, and experience you'll need to thrive in a world of global networks.
Masters courses and research degrees
The University offers a broad range of master's courses and research degrees. Subjects include engineering, design, humanities, social science, management and science.
We carry out research that makes a difference to society- from helping children with chronic pain, protecting us from cyber-attacks, improving access to justice for autistic people, to researching ways to help with the COVID-19 pandemic.
Postgraduate students will benefit from:
excellent teaching and research facilities, including purpose built laboratories
support for your research from internationally recognised supervisors
opportunities to enhance your employability via targeted skills training or, for selected programmes, work placement
access to our library, open 24/7, working around your studying schedule
funding available in many different forms, from studentships offered by our departments and scholarships to career development loans.
Learn what it's like to live and study at Bath as a taught postgraduate student.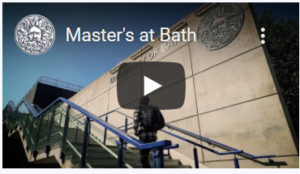 Learning experience
Bath offers the highest quality of teaching in outstanding learning facilities, with access to a wide range of skills development opportunities. You will be taught by teaching staff, researchers, and practitioners who are leaders in their fields using their research and industry links to inform course content and teach you the most up-to-date topics. During 2020 and 2021, we have adapted our teaching to provide a mix of in-person and online learning activities. As we look ahead to 2022 and beyond, our aim is to offer you the best possible learning experience in an ever-changing world. We'll continue to improve your teaching and learning experience so you gain skills and understanding which are valuable to you and sought after by employers.
The campus
The University's campus is set on attractive rural grounds overlooking the historic city of Bath. You don't have to walk far to reach facilities like the Library, postgraduate common rooms, shops, and post office.
In the last decade, we have invested over £450 million in our campus. This includes new accommodation, academic buildings, and sports facilities such as a Olympic legacy swimming pool and a gym and fitness centre across three floors.
University of Bath campus tour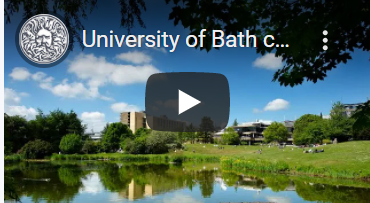 The city
Bath is a lively, friendly, and historic city, surrounded by beautiful countryside. The city is home to global businesses and start-up companies, so you can find local employment opportunities while you study and when you graduate. Bath is inscribed on the UNESCO World Heritage list twice; for its historic architecture and as one of the Great Spas of Europe.
Small enough to explore on foot, you can discover its beautiful stone buildings and the natural hot springs which gave the city its name. Indulge yourself in year-round arts festivals, museums, galleries, and the spa and get involved with the local community with our great volunteering opportunities.
International students
The University has a vibrant international student community. 32% of students come from outside the UK, representing over 147 nationalities.
We know that moving to a new country and experiencing a different culture can be challenging. Here at Bath our International Student Advice Team can help to settle you in, including an international orientation programme and mentoring scheme to help students relax into life in the UK.
University of Bath alumni occupy positions of influence in many countries and we continue our association with former students long after they have graduated.
Learn more about support available to International students.
We hold Virtual Open Days several times a year to help prospective students experience the University of Bath.
Our next Postgraduate Virtual Open Day will take place on:
Wednesday 9 February 2022 11am to 3pm (GMT)
Chat live with staff and current postgraduate students to find out more about living and studying at Bath. Join our live webinars where you can ask questions directly to both staff and students.
Register now for 9 February 2022
Find out more about studying at Bath