Masters study opportunities at Edinburgh Business School, Heriot-Watt University
Masters and Taught Courses in Scotland
No two people are the same. Different circumstances, different motivations, different visions of success. That's why we offer learning experiences that are equally unique.
At Edinburgh Business School, we believe that it's all about lifelong learning on your terms: a concept that we've tried to make accessible to as many individuals as possible through our postgraduate programmes in business.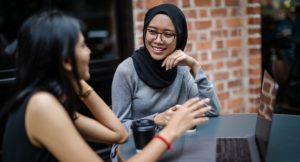 Programmes for tomorrow's leaders, today
From working professionals to busy parents, and often those who are both – we're passionate about bringing out the best in ambitious talent through our  programmes. You can study for an MBA, MBAs with specialisms, MScs in Marketing and Financial Management, and our DBA and PhD online, from the comfort of your own home. We also have a part and full-time MBA programme in Dubai, a part-time MBA programme in Malaysia and a part-time, Executive MBA in Edinburgh. Whether you're looking to study on-campus or online, we're ready to help you achieve your goal.
"Completing a masters was always in the plan and something I dreamed of achieving academically. Progressing in my current career path and improving my employment prospects were always top priorities for me personally. However, with such a golden opportunity to work at a prestigious firm, I could not make the move to leave my job especially knowing how much the firm invested in me and the endless opportunities it was providing. The programme at Heriot Watt ticked all the boxes." Chantelle Micallef
Study for your MBA
The online MBA programme is rigorous, intellectually challenging and has a proven ability to greatly enhances our students' career prospects. It covers key management disciplines, including people skills, economics, marketing, accounting, finance, strategic planning and project management.
To complete the programme, you must pass seven core courses and two electives. On completion, you will graduate with a prestigious British Master's degree from one of Scotland's most international universities, and receive our ongoing support post-graduation and beyond.
The core courses are:
Study for your MSc in Financial Management or Marketing
Our MScs programmes are studied online, giving you the perfect life, work and study balance that you need. You set the pace of your own studies and are in control of what courses you study and when.
The MSc in Financial Management programme will give you a wide understanding of financial techniques and their application. You will cover key financial aspects, such as corporate finance, mergers, investments, derivatives, credit risk and risk management, which will prepare you for a career in a wide variety of positions within the finance profession.
Our MSc in Marketing helps create the marketing leaders of tomorrow. It will allow you to solve real problems and make the kind of informed decisions that can transform the marketing of your organisation.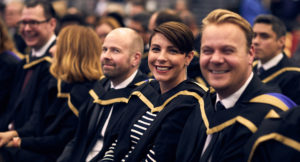 The programme will give you the understanding of key marketing concepts, tools and techniques that will enable you to add real value to your business and advance your career.  It is open to you, whether you're wishing to develop a career in marketing, considering a move into marketing, or looking to step up the career ladder.
Questions? We've got the answers
Our advisors would love to hear from you, and help you personalise your programme.
T: +44 (0)131 451 3090
E: [email protected]
Ready to go?
Enrol for your programme today, or find out more