Masters study opportunities at University of Portsmouth
Masters and Taught Courses in South East England

Master's study opportunities at the University of Portsmouth
A range of postgrad courses to unlock career possibilities
'I ALREADY FEEL SO MUCH MORE CONFIDENT'
YOUR BEST BEGINS AT THE UNIVERSITY OF PORTSMOUTH
A stronger sense of direction. Opportunities to specialise and further your prospects. A big step towards achieving your ambitions. Portsmouth is a university where you can connect with great people and businesses, and unlock career possibilities.
A strong reputation and connections in industry. An impressive community of alumi entrepreneurs. Opportunities to network with a whole range of people. Connections you make through Portsmouth can change everything.
Taught qualification or independent research? On-campus teaching or online part-time study? At Portsmouth, you can choose from a wide range of subjects and modes of study.
Why Portsmouth?
5***** rated for excellence in the QS World University rankings 2022
Outstanding Gold-rated teaching for our students (TEF)
Dedicated Graduate School supporting all research students
83% satisfaction with course quality (PTES Postgraduate Taught Experience Survey 2021)
Master's Scholarships available for high achievers
Courses designed for the career you want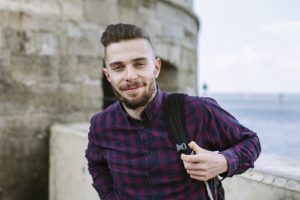 You're heading towards a highly competitive global job market. It really pays to be prepared. At Portsmouth, we offer courses designed for the career you want. That blend first-rate research facilities with practical application. Our tutors' research, links with industry and international connections bring relevance and purpose to learning. They'll share the insights and skills you will need to achieve your ambitions.
Our Careers and Employability Service offer expert, tailored advice to help you secure and shape the future you want. They have strong links with local employers. They can advise you on career planning and volunteering opportunities. And they organise dedicated employer events. You can tap into their support for up to 5 years after you leave us.
You're not on your own when you study postgraduate at Portsmouth. We're here with a wide range of advice, guidance and support to help you get the absolute best from this unique time in your life. From housing to wellbeing to advanced study skills, we've got your back.
Covering your costs
You're investing in your future. We want to help you do it wisely. We're here to help you understand the fees and costs involved, and what support is available to you. That support could include a Master's Scholarship of up to £3,000 if you're a high achiever. We have scholarships available for January and September 2022.
Take a look at our comprehensive guide to fees, funding, scholarships and more.
Research breakthroughs
We are a university that solves society's problems. Recent research at Portsmouth includes engineering an enzyme that could make single-use plastic recyclable, decoding the language of violence against women, and helping to discover a new species of orangutan.
Many researchers are actively involved in teaching and supervision. They'll empower you to reach your breakthrough moments.
A great place to live and study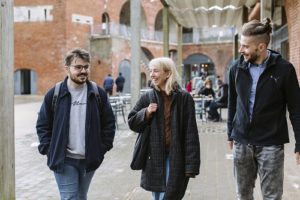 Steeped in history but with a modern vibe, Portsmouth is an island city that's open to the world. There's inspiration round every corner, and beaches and boutiques just a few steps away.
Everything's close by in Portsmouth. In the course of a day you could go from the deck of a historic ship, to a bustling shopping street, browse in a gallery and relax on the beach. The city's flat – perfect for cycling – and it's easy to get around. By night, the city comes alive with gigs, bars, restaurants, clubs and shows.
Our compact campus is threaded through the heart of the city – rubbing shoulders with cafes and venues, yet just a stone's throw from green spaces and beaches. It's home to students from all walks of life, and from all around the world. We're constantly investing in new facilities to help them fulfil their ambitions. Ready to join them?
Postgraduate events online
Get face time with expert teams. Hear top tips from our students. See how flexible postgrad at Portsmouth is. Find a way forward with funding and finance. These are just some of the opportunities you can take advantage of at a postgrad festival or virtual experience.
You'll find more great reasons to choose Portsmouth in our Postgraduate Prospectus.
Order yours for free.
Discover more about Portsmouth's postgraduate taught courses