Anna Whittall – MA Contemporary Art Practice graduate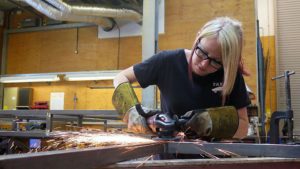 Current employer: Theatre Royal Plymouth
Current job title: Assistant Maker
Current location: Plymouth
"Studying at Plymouth helped me enormously, the open and creative nature of the MA allowed me to experiment with multiple practices without any hesitation."
Tell us what you have been doing since completing your studies.
A month after completing my studies I obtained the position of Assistant Maker at TR2, Theatre Royal Plymouth, where I have been working ever since. I also occasionally endeavour in freelance work such as prop making and photography to further my skillset and creative passions.
Has your career path changed since graduation?
Definitely not, being able to use the workshops and facilities during the MA made me realise that I wanted to pursue a practical career focusing on creative practices involving installation and sculpture.
What is the most difficult thing which you have faced in your career?
Nothing really comes to mind, some people have asked if I have had difficulties being female in a predominately male environment but I am lucky enough to have not. I think that if you are a determined, passionate and skilled individual this shines through much more than your gender.
What is the best, most exciting or fun thing that you have done in your career?
I think the most exciting show I worked on was Big the Musical, it was the first show I assisted making from beginning to end and seeing it develop was just incredible. I also produced a variety of pieces for The Wedding Singer and being entrusted with important scenic items and props gave me an immense sense of pride and achievement.
What, if anything, would you do differently if you could?
I would spend more time developing my practical skills and experimenting whilst I was at University, the technicians are incredibly knowledgeable and are always willing to assist students with their projects.
What advice would you give to anyone wanting to get in to the same line of work?
Practice, experiment and develop your skillset at any opportunity. Even if you don't think a certain practice will interest you there is no harm in trying! You may be surprised that it does interest you or becomes valuable for future career opportunities.
How did studying at Plymouth help you?
Studying at Plymouth helped me enormously, the open and creative nature of the MA allowed me to experiment with multiple practices without any hesitation. The lecturers and technicians were incredible mentors and always supportive.
What is your favourite memory of studying at Plymouth? 
Spending hours and hours in the metals workshop building an 8ft x 8ft steel tree!
Do you stay in touch with other Plymouth University alumni or lecturers?
Yes, I am still in close contact with the lecturers Anya Lewin and Karen Roulstone. Through them I have managed to obtain freelance prop work and building the BA (Hons) Fine Art exhibition spaces for Plymouth University's Summer Shows.
Would you recommend undertaking a course with Plymouth University, and why?
I would highly recommend Plymouth University because the overall support system available goes beyond students' immediate lecturers and develops into all staff members across the institute. The facilities are sensational and are constantly being renewed and updated.
Find out more about postgraduate study at the University of Plymouth here