Dani Abulhawa – PhD in Performance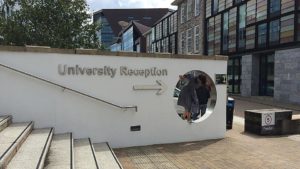 Despite having already lectured before completing her PhD, Dani recognises how significant her degree from Plymouth will be in her future career
Current employer: Sheffield Hallam University
Current job title: Senior Lecturer in Performance
Current location: Sheffield
"I would recommend Plymouth because there is a really strong culture of research and creativity. The lecturers are extremely supportive and the standard of course organisation seems excellent to me."
Tell us about your career path since graduation.
I was already working as a Senior Lecturer in Performance when I began studying my PhD at Plymouth University, so that hasn't changed; but, completing the PhD means that I am now in a better position to be able to apply for future jobs, and to secure research funding.
What is the best, most exciting or fun thing that you have done in your career?
I went out to Palestine during September and October this year to work with a charity called SkatePAL who build skateparks and teach young people to skateboard in the Palestinian Territories. I was helping out with the build and the teaching of skateboarding, but I was also conducting research into the charity and the role of urban play as a performative interruption in this specific geographic location. My experiences on the trip were difficult, exciting, and fun for all sorts of reasons.
What, if anything, would you do differently if you could?
I have learnt that it's good to put yourself in challenging situations and to avoid the most comfortable or easy options, because it's in that space of being challenged that you stand to learn a lot and to develop more as a person. In recent years I've increasingly embraced that approach. If I could do anything differently I'd have liked to have made that realisation sooner and encouraged myself to worry less, but then I also recognise that these things have to unfold in their own time.
What advice would you give to anyone wanting to get in to the same line of work?
This is a hard question because I feel like I've been quite lucky getting into lecturing when I did. I sent my CV speculatively to a lot of universities after I finished my master's degree, and I travelled all over the country to teach occasional classes and one-off lectures to build up my experience. You have to be creative and confident in the way you market yourself to prospective employers if you don't have that much experience, and you have to be prepared to take on work that is a bit outside of your immediate knowledge and expertise to make the most of opportunities. Most of all, you have to be prepared to be knocked back, and to keep trying.
How did studying at Plymouth help you?
Studying for my PhD at Plymouth gave me a lot of confidence because my supervisors really challenged my ideas all the time and pushed me to be rigorous about my methods, my ideas, and the articulation of my research. Most importantly they gave me space to figure things out for myself, and to be creative. There was no imposition of a particular structure or way of producing the thesis. It meant that I constantly felt a bit 'at sea,' but I realised I was going through a difficult and important process of developing further as an independent thinker.
Would you recommend undertaking a course with Plymouth University, and why?
I would recommend Plymouth because there is a really strong culture of research and creativity. The lecturers are extremely supportive and the standard of course organisation seems excellent to me.
Find out more about postgraduate research degrees at the University of Plymouth here