My Cranfield Experience: Investment Management MSc Student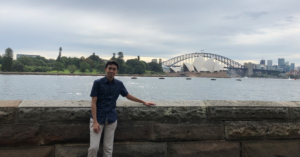 Living in an internationalised world with demands for high-quality professionals, education has been a key driver for passionate individuals to sharpen their skills and networks to benefit themselves and society. My name is Christoforus Andriawan, and I am an Indonesian student and course representative of Investment Management MSc at Cranfield School of Management.
My Cranfield journey began when I was looking to add to my experience and skills that I can utilise to leverage my career in finance. Coming from a non-finance background, I had 3 years of expertise in business analytics in Australia and took business as my undergraduate major. When considering where to study my postgraduate degree, what impressed me about Cranfield is the positive feedback from alumni cross-continent and their motivational stories about their experiences as students at Cranfield School of Management, particularly in finance courses. I had an opportunity to speak with an inspirational alumnus who resides in Sydney, Australia, and we had a chat during my office lunch break. What I can say is that the alumnus inspired me to select Cranfield as the place that can leverage my educational and career potential in the finance industry.
I joined Cranfield during the Covid-19 pandemic, and as I come from a red list country, I had to undertake two weeks of hotel quarantine before I could start my life at Cranfield. Quarantine was alright for me, and I was lucky to be placed in a decent accommodation with a window looking directly to the airport, so I was not bored at all. Once this was complete, I moved to campus, residing at Fedden House, a campus-managed accommodation for students who bring their partners. Living on campus has great benefits for me; however, it is also a trade-off between living urban life at places like Milton Keynes and Bedford, or living in a study-focused environment on campus. The first week passed and I began to cover materials for the classes. The Investment Management MSc programme at Cranfield is generally delivered in person, although some special circumstances allow us to have online classes. There are many clubs and societies at Cranfield which I joined, such as Cranfield Finance Society and Cranfield Consulting Club. I am also meeting many students from international backgrounds, and I am honoured to call some of them my friends.
As I said previously, studying Investment Management MSc has broadened my perspective about the financial industry and specialised my skills to be impactful in the industry that I am really into. Not having a financial background does not stop you from enriching yourself with knowledge at master's level. Cranfield provides face to face learning opportunities with the highest standards. Managing time is important as a student and learning with the right mindset will be helpful toward study. Enjoy the study experience while you can and best of luck.