Postgraduate historian wins prestigious Churchill Fellowship
Elliot Clark one of just two in the country to be awarded research opportunity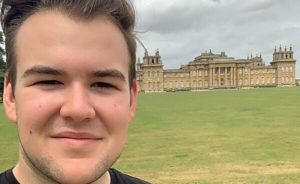 A University masters student has been awarded a prestigious fellowship to advance his research into the life and legacy of Sir Winston Churchill.
Elliot Clark will have the opportunity to visit dedicated archives and work with scholars based in America after being named as one of just two recipients of a Graduate Research Fellowship from the National Churchill Leadership Center.
Elliot's postgraduate research has been focused on the impact that Churchill's childhood had on his own understandings and role as a father, his relationships with his children and how he nurtured them and prepared them for public life, while simultaneously trying to protect them. This involves studying the private correspondence, diaries and newspaper reports held in the Churchill Archives Centre to construct a picture of how Churchill lived life at Chartwell with his family – something he will be able to extend through the fellowship.
"I feel extremely honoured to have been awarded this fellowship," said Elliot.
"With the support of the National Churchill Leadership Center, I can now spend more time in the archives investigating and accessing primary material, some of which has been overlooked for its value as a historical source. I hope to be able to provide a new insight into the life of Winston Churchill, one as a family man and a modern man ahead of his time."This work builds on Elliot's undergraduate studies, where in his thesis, he looked at the role of Clementine Churchill and how her husband's political career shaped their marriage. While working on the study, Elliot had the support of the Jennie Churchill Fund, which facilitated his research at the Churchill Archives Centre.
During the course of the fellowship, Elliot will go on to examine public and private perceptions of Churchill and his family, the high and low politics of fatherhood in public and private life, and of being part of a political dynasty, in Britain, the Empire and beyond.
"Despite many publications already produced on the life of Winston Churchill, I believe there is still much we do not truly know about his private life,. A unique opportunity now arises with recent material in the archives becoming available to understand new aspects of Churchill's life and actions." Elliot Clark
The application process for the fellowship is extremely competitive each year and attracts scores of young historians. Elliot was chosen alongside a graduate from Oxford who is researching the public and polarizing debate of Churchill's views on empire and race.
Dr Harry Bennett, Associate Professor of History in the School of Society and Culture, and Elliot's supervisor, paid tribute to his achievement. He said:
"It is great to see this recognition of one of the University's Postgraduate History students. We are wonderfully fortunate in the quality of students that we attract. Winston Churchill is a dominating, and sometimes controversial, presence in 20th century Britain, important to so many parts of the national story. What is often overlooked, however, is the inner world of a devoted father and loving husband, doing what he felt was right by family and country in equal measure. Elliot's research shows Churchill as, in some ways, a strikingly familiar modern family man balancing the many challenges of his professional and inner lives. While in the 21st century many of us would recognise that tension, of course the professional challenges that Churchill faced are of a scale that few of us could ever imagine."
Find out about postgraduate study at the University of Plymouth here