Richard Burton Archives retains Accreditation Status: Research Facilities at Swansea University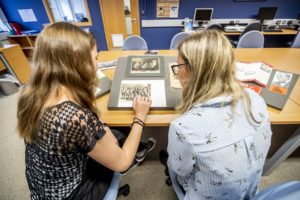 The Richard Burton Archives at Swansea University holds valuable material of local, regional, and national significance. Recently, it has retained its Archive Service Accreditation status in recognition of its high standards and dedicated facilities for researchers and the wider community.
Archive Service Accreditation is the UK standard for archive services. The Richard Burton Archives is the first university archive in the UK, and in Wales, to achieve accreditation status after the launch of the standard in 2013. To meet the standard, archives must show that they are 'responsive to all their stakeholders and trusted in the management of their unique collections.'
The Richard Burton Archives' extensive collections are kept in specialist facilities and are made available in the public reading room. Holdings include:
Siân Williams, Head of Special Collections at Swansea University, commented: 'I am delighted that the Richard Burton Archives has successfully retained its accreditation status and note the observations of the panel who recognised our achievements and our commitment to ongoing improvement and development.'
Interested in a Humanities Postgraduate Degree? Explore our range of programmes and discover your postgraduate options at Swansea!