Warren Cairns – PhD in Analytical Chemistry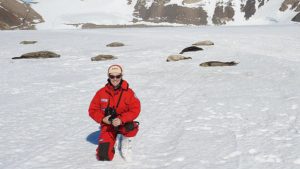 Warren Cairns now works as a Senior Researcher for the Italian National Research Council in Venice.
Year of graduation: 1997
Current employer: Italian National Research Council, Institute for the Dynamics of Environmental Processes
Current job title: Senior Researcher
Current location: Venice, Italy
What is / was the title of your project?
Interfacing High Performance Liquid Chromatography with Inductively Coupled Plasma Mass Spectrometry for Speciation Studies.
Describe your research in one sentence.
Trace element analysis of environmental archives.
What was the most exciting element(s) of your project?
Learning to use instrumentation that had only just been developed and commercialised.
What was the most exciting outcome(s) of your project?
The most exciting thing was obtaining results that were good enough to present at an international conference and then publish.
Tell us what you have been doing since completing your research.
I left Plymouth and did a postdoctorate at the University of Sheffield with British Nuclear Fuels. I then joined the biomonitoring division of the Health and Safety Executive, carrying out analysis of workers exposed to trace and heavy elements. Finally, I joined the Italian National Research Council in 2001 where I study the exchanges and occurrence of inorganic pollutants in the cryosphere, atmosphere, and oceans.
What advice would you give to anyone wanting to get in to the same line of work?
Network at conferences, seize opportunities, and keep your enthusiasm up: change can be just around the corner when you least expect it.
How did your time at Plymouth University help you?
Plymouth gave me expertise in a new (at the time) instrumentation (ICP-MS) that is now widely used around the world, including within my current institute.
Would you recommend undertaking research at Plymouth University, and why?
Yes, the University has great research facilities, a supportive research student community, staff that will encourage you, and is in a great location.
Is there anything else which you would like to share with our current students?
Use the time and access you have at university to learn another language.
Find out more about postgraduate research degrees at the University of Plymouth here